The top 5 reasons why forex traders lose money and why they don't need to do so!



The top 5 reasons why Forex traders lose money and why the don't have to do so!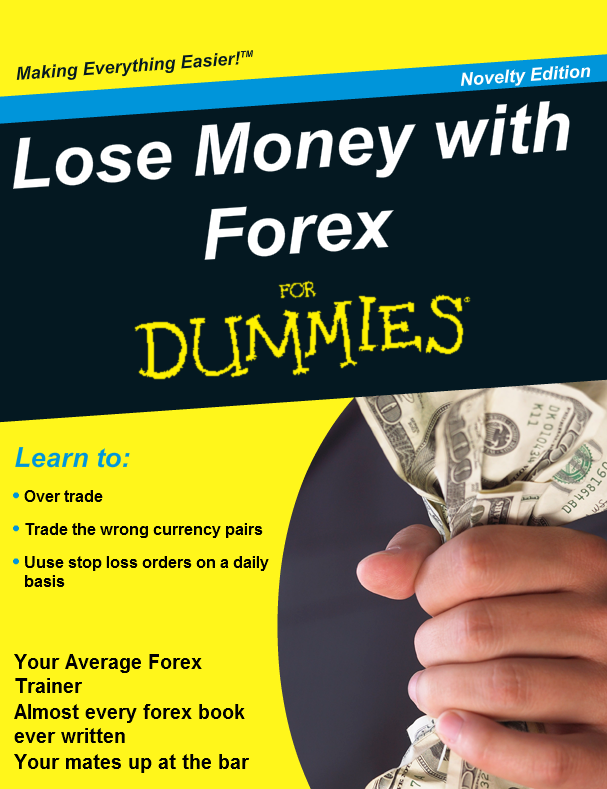 Almost every book I ever have read or presentation I have attended on the subject of Forex trading or currency spread betting starts with a statement that 95% of those involved lose money! In this article I discuss the top 5 reasons why Forex traders lose money and why they don't need to do so! All of the books and presentations still urge folk on to trade in a way that leads the majority to lose money. It reminds me of the forlorn hope, cannon fodder troops of old marching into the face of heavy fire!
Thankfully, it does not have to be this way at all and as far as I can see it is perfectly possible to trade successfully without running a serious risk of losing money.
The "Lose Money with Forex For Dummies" title shown above is not a real book of course. (By the way you can produce your own spoof "For Dummies" title at the For Dummies website). However, listening to the Forex trainers and reading the books you would really think that this was the standard text followed by all of those who purport to teach the subject.
Of course, they all say that their offer is different. Often times they have to make things appear different in order to justify the crazy prices that they charge. Goodness knows why they want to charge so much when they can apparently make untold riches from trading. I've never known any of them to try to justify these silly prices. Despite trivial differences and unusual nuances their offers are pretty standard and the outcome for their customers is pretty standard too – losses!
It would be easy enough for any of these so called educators to prove their products by simply publishing results preferably in real time or at least on official documents. I don't see that happening any time soon. However, in this article I want to go a little deeper than just complaining about the rogue operators. I want to explore why people actually lose money in forex trading.

To show that it can be done, in addition to this blog i also run another, my live trading blog, at www.the1stmillion.wordpress.com Here, I show trades and update readers as soon as any are entered or left. Last year the account behind it made 1,250% profit with no losses. this year, using readers money alongside my own, we are aiming for at least 1,000% again but starting with £2,700 instead of last year's £1,000.
Reasons Why Forex traders Lose Money
So, let's look at the reasons why people trading forex often lose money. This article was previously entitled the 4 top reason why people trading forex lose money. However, on revisiting the article I realised that I has missed one out! It is not that I thought of another one but rather that this reason is so integral to my thinking that I almost take it for granted. The "new" reason is now number 1 below to make it easier for previous readers to find it. The top 5 reasons in my experience are:
1. They close all trades every night
The start of day price (10.00 pm UK) is a very important refernce point for me and for many other traders as it frequently goes on to act as a point of resistance or support or as a pivot point for price directional changes. However, it seems to be the norm that before this time is reached each night all trades are closed even if they are in a loss making situation.
It seems blindingly obvious to me that for example, if we are in an uptrend and the price is moving towards a loss making buy trade then let things run!
My article on jeff's rule of thirds shows that ANY buy trade placed in the "buy" area will come into profit; that any sell trade placed in the "sell" area will come into profit and that ANY ORDER AT ALL placed in the "middle" area will come into profit. Now this is a hugely powerful statement but it won't be true if you insist on closing trades that are in loss because of a time on a clock or date on a calendar. You can check out the Rule of Thirds post here: http://coursesonforex.co.uk/?p=930

There are good reasons to very occasionally close losing trades – mainly to release trading capacity and thereby make more money.
2. No training or preparatory reading
I am fairly sure that the reason why the majority of those losing money fail. I strongly suspect that they don't undertake any significant preparation in terms of training or even reading before they set sail on the stormy seas called the markets in very fragile boats.
It is bad enough trying to trade with "wonky" techniques but doing so while not understanding even the mechanics of trading is almost suicidal.
The Making Money With Forex home study course, available from www.coursesonforex.co.uk costs a maximum of £300 and clearly shows traders how to overcome the 4 main loss causes and many of the minor one's too. It aims to ensure that even the smallest scale of trader will recoup its cost in no more than a couple of weeks.
3. No practice in a safe environment
"Demo" accounts are readily available and normally free of charge to use. While they are not perfect they are a great "simulator" learn within. The demo account certainly teaches users how things work, what the various buttons do and so forth.
However, anyone who trades knows that it is a totally different kettle of fish when you start to trade using real, hard earned cash. I am definitely "for" using a demo account to learn the ropes. I am also "for", but less enthusiastically so, the idea of practicing for weeks or months until perfect before transferring to a "real" account. I am more of an advocate of a short period of simulation followed by a switch to the real world with a small amount of real money that can be lost without tears.
The Making Money With Forex course gives access to a GKFX demo account on the MT4 trading platform. Every trader at Courses On Forex uses this provider and platform. By signing up through us you will help to build our "buying power" and leverage with the provider. We aim to use both of these to help people who train with us or follow us.
4. Stop loss orders
I am not a fan of stop loss orders. I can't go as far as saying that they never have a place in trading. However, with thousands of successful trades under my belt I have never used one and don't see it happening either. There are some very particular trading circumstances in which I see the stop loss order as being appropriate; it is just that I have never met them on the field of play – yet.
Of course I see that stop loss orders are intended to prevent traders from being wiped out. I can see that it is better not to be wiped out and left with a smaller pot of capital than it is to be wiped out – I am not that stupid! However, surely, it is better not to close a losing trade but rather to just stop it getting any worse while having time to work our way out of it?
That is exactly what I do and what I teach – halt the loss and create time for the market to come around and allow a profitable exit. Even this is something that I rarely find myself having to do. There are techniques that represent extremely good, far better alternatives to stop loss orders. I have not come across these techniques in any of the courses or literature. I worked them out for myself initially intuitively and then with testing and documentation.
5. Over trading
The next big loss causer is over trading. This occurs when too many simultaneous trades or trades that are too large for the equity held in the trading account are entered into.
The total collective volume of open trades, either buy or sell trades, or the total difference between buy and sell trades is what matters.
The Making Money With Forex home study course from Courses On Forex teaches that the total net volume of open trades should be 0.006% of the equity value of the account. The trading record software that comes with the course actually calculates and displays the volume that should act as a maximum level.
It's up to you
I can't honestly put my hand up and say that I have never lost money nor that I avoid all of the above issues all of the time. However, if and when i do decide to go outside of the rules it is a conscious decision and I know and fully understand the risks involved. My aim in the Making Money With Forex home study course is to put as many other people as possible into the same position.
Please feel free to leave any comments or to ask any questions.