Rule of thirds trading
Rule of thirds trading seems to be unique to Jeff Fitzpatrick's Courses on forex taught style of trading. However, it is based on the simple, time honoured truth of commerce embodied in the phrase "Buy low, sell high".
Rule of thirds trading is very simple but it is not a stand-alone trading tool. Its job is to indicate whether a trader should be buying, selling or both. The indication of this is given simply by the background colour of the trading screen.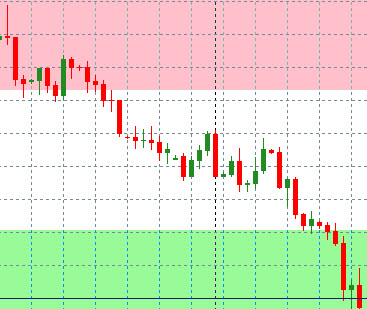 This screen shot, on which each of the candlesticks on the chart represents a single day of price movement between 1st January and 5th April 2013 illustrates how the screen colours look and how things changed over the 3 months or so involved.
Early in this very volatile period the screen was pink and only sell trades would have been advised. Then there was a period of both buy and sell trades being advised. More recently only buy trades have been advised.
Does it work?
Well so far YES but as with all things in life; there are no guarantees.
What we can say is that ANY sell trade placed in the sell zone and ANY buy trade placed in the sell only or buy only zones as appropriate would have gone into profit.
I have been able to check the figures as far back as the 4th of January 2010 and this statement is true for all trades placed since then.
We can also say that ANY sell trade placed in the middle, buy and sell zone, in the same period has been in profit.
What we can't say YET is that any buy trade placed in the middle, buy or sell zone, since 4th January 2010 would have gone into profit. However, this is only because the jury is still out on buy trades placed in the middle, buy and sell zone, between 18th January and 20th February 2013. They may not, in some cases, have gone into profit yet. That said the price action is currently moving strongly towards putting any such trade into profit. I would be happy to bet a couple of my hard earned GBP's that they will go into profit in due course. There may be periods when we do have "work in progress" in the system.
Where does the rule of thirds come from?
The answer as to where does the rule of thirds come from is simply "observation" and common sense. I realised that I was all too often being left with buy trades at the top of the price action range and sell trades at the bottom of it. I simply decided that I was fed up with this situation and realised that if I could determine what I meant by the "price action range" I could avoid placing such trades in the first place.
I decided to map out the price movement and range on a spread sheet. This was a much bigger job than I anticipated, particularly after I decided to go back as far as I could get data for. The resulting main basic data spread sheet currently has a grid of 1,206,432 cells and it grows every day! In addition, there are 10 more spread sheets that I used to test the placement of the borders between the three zones.
The zones are based on moving averages. It took an enormous amount of work over many months to determine the very best number of time periods to include in the moving average calculation.
Here is an extract from the main spread sheet. On the right hand side it shows whether each day ended up as a buy, sell or (blue boxes) both.
How is the rule of thirds used?
This is an easy question to answers. The trader simply looks at their screen to see the colour behind the current price. If it is pink they should only consider selling. If it is white they should consider buying or selling and if it is green they should only consider buying!
Of course, whether to buy or sell is only one, albeit an important component, part of the decision making process. The actual price to trade at; the size (volume) of the trade, when to exit the trade, when and how to defend the trade are some of the other factors to take into account. The Courses on forex home study pack called Making Money With forex covers all of these elements of the decision and more. This can be purchased from our website shop at http://coursesonforex.co.uk/shop
Does the rule of thirds work with all currency pairs?
All currency pairs have their own characteristics or, as I like to call it, their own personality. For example, they have different trading volumes and different degrees of price volatility. I decided to only trade the GBPUSD currency pair. My strategy was to get to know this pair extremely well and to not divide my attention by fighting on more than one front. This has worked very well indeed for me.
I did not really expect this to lead me to the ability to see so clearly how this pair works and to devise such simple trading rules to make a lot of money quickly.
The short answer is therefore that I simply don't know if the rule of thirds will work with other currency pairs. It has simply not been tested. I suspect that the personality of the EURUSD or EURGBP pairs may be similar enough for the rule to work with them. However, it could very well be that the moving averages needed to calculate the borders between the various zones could be different.
It may even be that I need to adjust how the borders are calculated for the GBPUSD pair over time too, time will tell and subscribers will get any updates that I produce.
How can I get the rule of thirds tool on my trading screen?
The Rule of thirds is designed for the MT4 trading platform and is a plug-in. It comes with an installation video and should take no more than 2 minutes to install.
The rule of thirds comes as part of a package of my unique trading tools and also includes a plug-in for my Jeff's Lines indicator. This is actually an even more powerful tool than the rule of thirds as it provides entry and exit points for the buy or sell trade that the rule of thirds has decided is appropriate. In addition, the pack comes with my Excel based trading gains target and planning tool which informs users of the trade size that is appropriate to the trade involved.
The trading tools pack can be obtained from our web shop at http://coursesonforex.co.uk/shop for just £49.00 The tools also come FREE with the purchase of our full course for just £295.00 which also includes life-long coaching and mentoring.
Can I see the rule of thirds in action?
By all means; as part of our training and support we run a live trading blog which uses the rule of thirds and the other courses on forex trading tools. You will find this via http://coursesonforex.co.uk or directly at www.the1stmillion.wordpress.com In year one we started with £1,000 and made £12,500 of profit with 75 trades and not a single loss. Year 2 started on 1st March 2013 and at the time of writing 8th April 2013 it has made 36% again with not losses.
Contact
Visit the live trading blog or leave any questions on this blog. Contact me directly by email at jeff@ravenglen.com